3 important

revenue growth tools to stay prepared for economic uncertainty
From managing shifts in supply chains and adjusting to consumer behavior, leveraging historical data can be tricky in today's environment. The quality of data is key, as is understanding the right historical reference for predicting the future. Ultimately, you need to make decisions fast, and with accuracy, as market conditions change.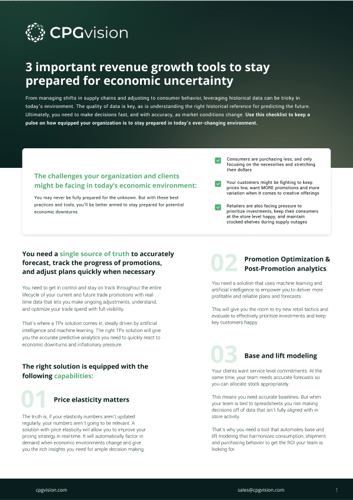 When our clients succeed, we succeed.
Overall experience with CPGvision is positive as rarely do you find software companies like CPGvision that provide personalized implementation and support from the CEO and through to Technical Support levels."
CPGvision has given our internal stakeholders access to sales plans and forecasts, providing transparency and fostering collaboration. We now have visibility to our total trade promotion investment as well as sales volume forecast and can see the immediate impact of changes to the plan. This keeps us on track to meet our sales and efficiency goals."
Fantastic TPM solution! Cutting planning time dramatically vs use of excel, providing accurate ROI analysis through integration with syndicated data, & providing a simpler solution to deduction management vs our prior process."