A single platform for managing your entire trade promotion cycle
Budget & Allocate

Plan promotions & Forecast

Reconciliation & Financials

Reporting & Analytics
Budget & Allocate
Generate your trade budgets for working and non-working trade on fixed and variable basis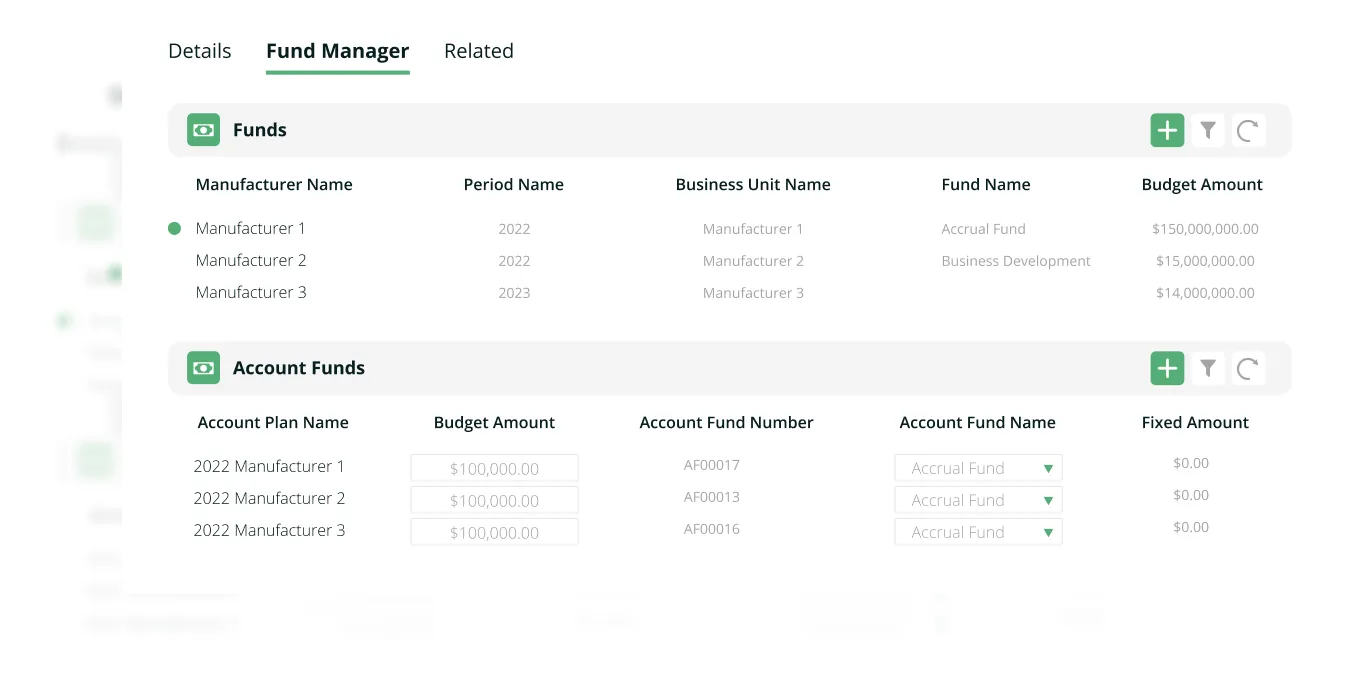 Plan promotions & Forecast
Our powerful and intuitive UI will allow your whole team to collaborate seamlessly, providing you with functional visibility into promotions, account plans, budgets, post-promotion analytics, and account and company P&Ls. Generate a holistic consumption forecast and translate it to a shipment forecast, enabling demand planners to know the required quantity, location and timing of product.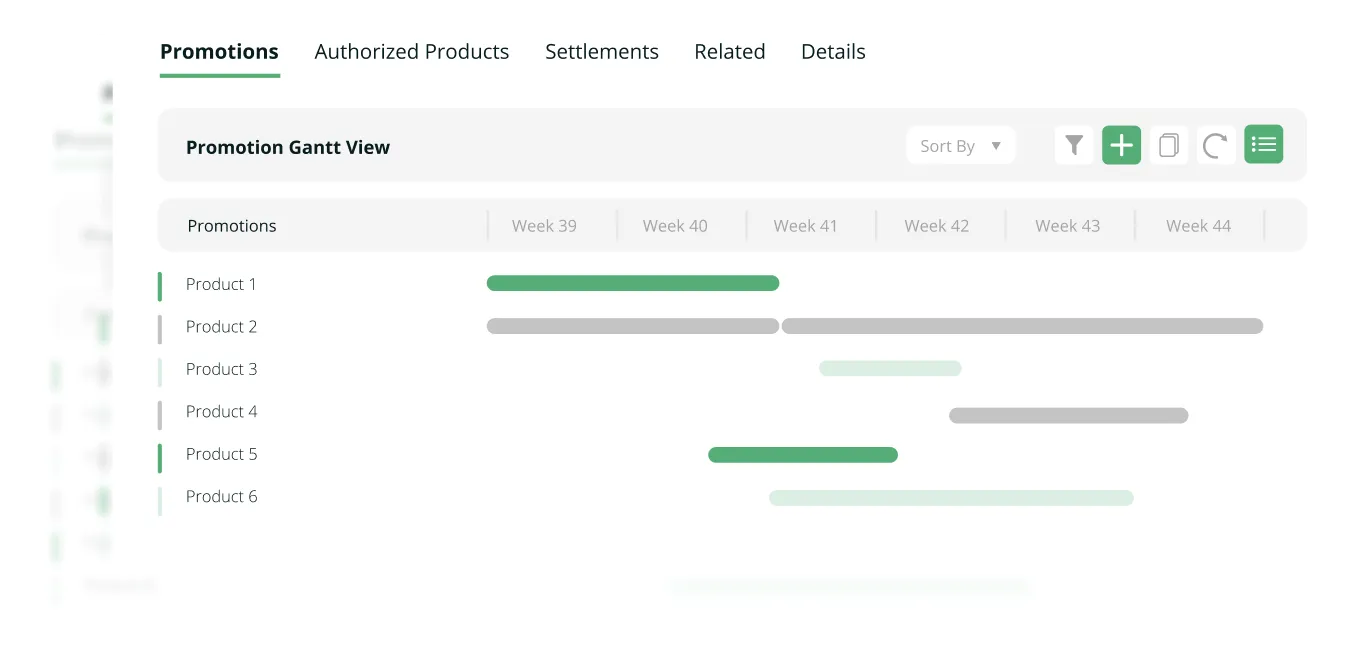 Reconciliation & Financials
Our full reconcilitation process includes lots of time-saving features, including workflows with Kan-Ban approvals, the ability to match a distributor deductions to indirect promotions, auto-settlements, and much more!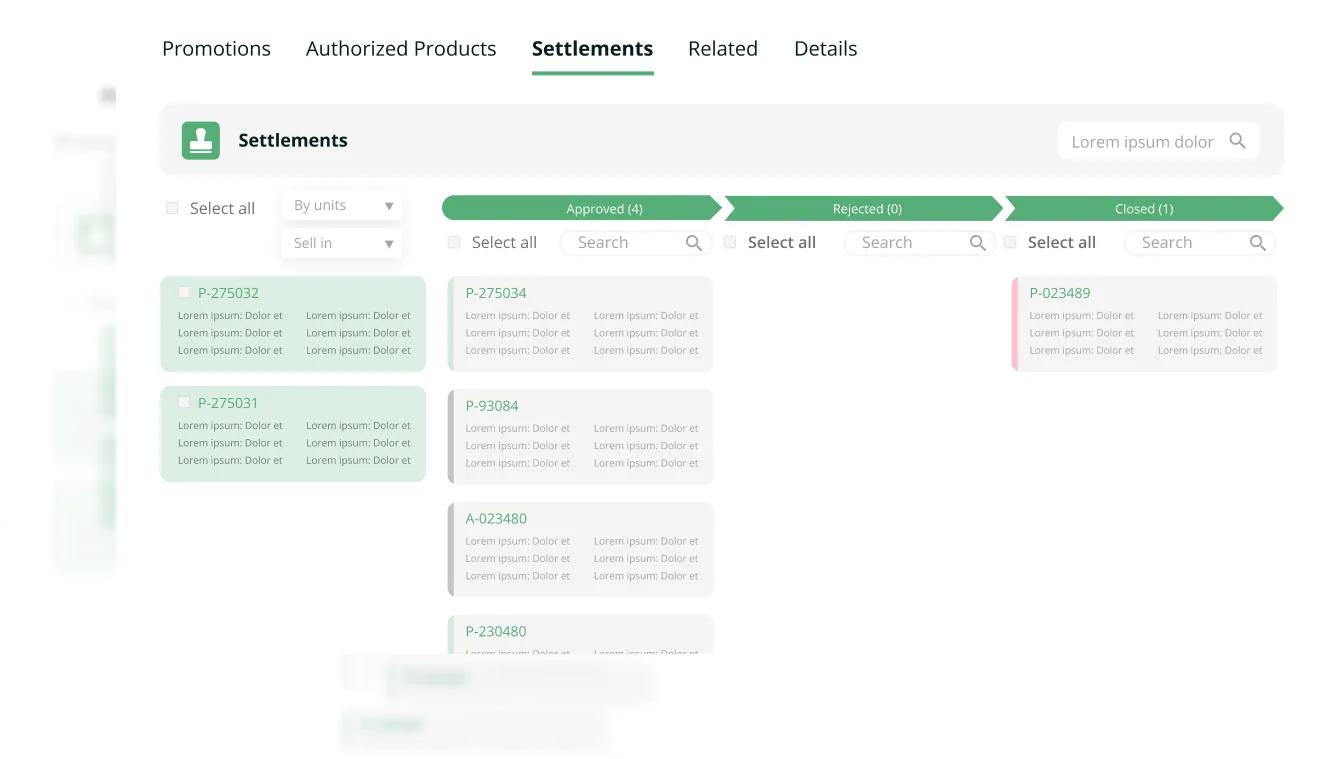 Reporting & Analytics
CRM Analytics generates reports and visuals for Financial reporting, Forecast Rollups, Account P&Ls, Post-promotion performance and much more!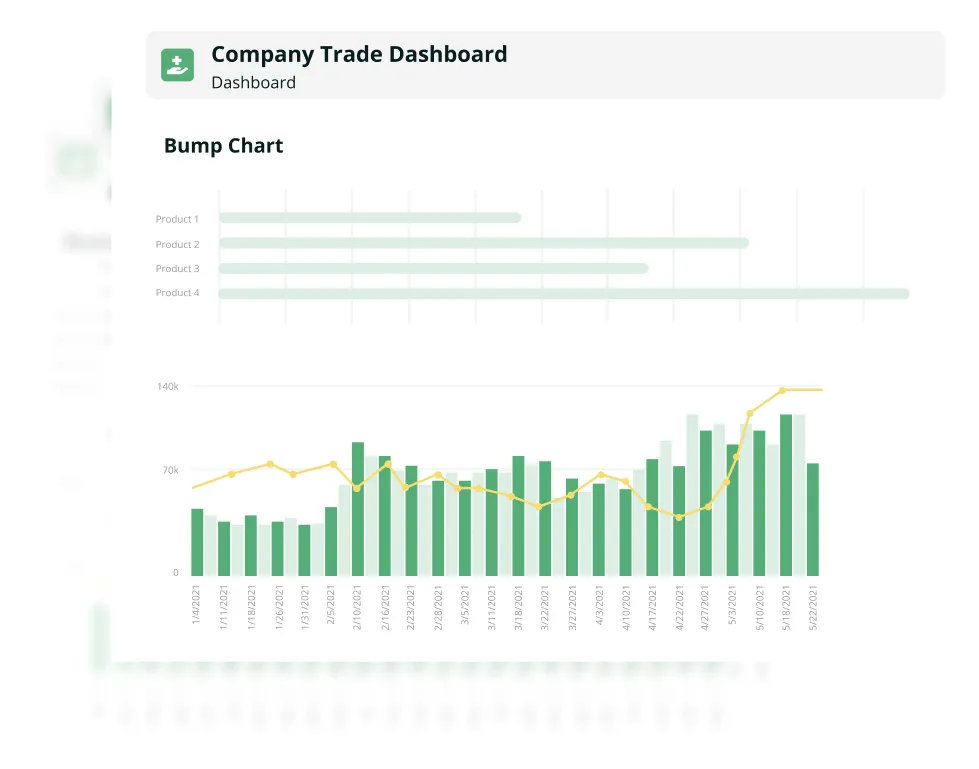 Your key questions answered

What type of data will I need for the foundational modeling stage?
Foundational models drive accuracy and applicability of the entire TPx system. Typically, we start with sell-out data including sales distribution, pricing and causal data. However, if sell-out data is sourced directly from retailers we can use promotion history in conjunction with this data. When sell-out data is not available we work with sell-in and sell-through to create the foundational models. Foundational modeling typically consists of base and uplift factors at the account/SKU/week level.

What type of reports can I build?
By utilizing CPGvision, you can obtain instant insights from a full set of standard reports, as well as the option to personalize reports and eaily configure dashboards. You will be able to track the full-cycle TPM process in reporting, from budgeting, budget allocations, promotions plans, forecast rollups for sales revenue, spend and profit, financial tracking for P&L, account P&Ls, liability accruals and all reconciliation measures such as deductions aging. Post event analytic reporting and visualizations as well as analytics are available and become more detailed and predictive when utilizing TPO and RGM. Data harmonization at the Account/SKU/Week level allows for rollups at any level in the product and geography hierarchy.

Can TPM by CPGvision manage all of my trade spend or just promotions?
Streamlining processes is a key advantage of CPGvision. You do not need separate systems to manage promotions, contracts and trading terms, CPGvision manages all of this in one UI and in an integrated calendar format.

What if I utilize different KPIs than the system?
The beauty of CPGvision's entire platform is how easily configurable it is. The ability to swap out fields on nearly every screen of the solution gives you instant customizability without requiring code changes. Custom fields for KPIs are a breeze and can be included on the screens in the solution where needed as well as utilized in reporting and visualizations.
How CPG companies use
CPGvision's TPM
Get your financial accruals accurately forecasted
Predict sales in both promoted and non-promoted weeks, by product and account.
Get deductions cleared quickly and easily
Whether you are using an in-house AR team or a Broker network, CPGvision enables you to significantly reduce your AR Aging numbers.
Create sales plans quickly, easily and with full flexibility
Manage promotions, contracts and terms in the same UI, on the same calendar and generate a holistic forecast that is inclusive of promoted and non-promoted volume, sales, spend and profit.
Validating deductions becomes much easier
Match expenses to events, attach contracts and proof of performance and collaborate between teams in-app. Your vital audit trail is all in one place!
Get in touch with our team of experts today
Learn more about how you can use our powerful and configurable Trade Promotion Management solution to run your full cycle trade functions and generate accurate holistic forecasts.