Trade Promotion Optimization

Software Built for CPG Brands

Use data science to unlock powerful capabilities including iterative scenario planning to combine ML-generated promotions with real-life guardrails and user interactivity. TPO capabilities work as a stand-alone solution, as an addition to CPGvision's TPM or your current TPM.
Promotion optimization

Scenario planning

Insights & Predictive Analysis
Promotion optimization
Increase your ROI on trade spend with artificial intelligence-driven optimization and scenario planning and see the impact on your volume, revenue, and profit immediately.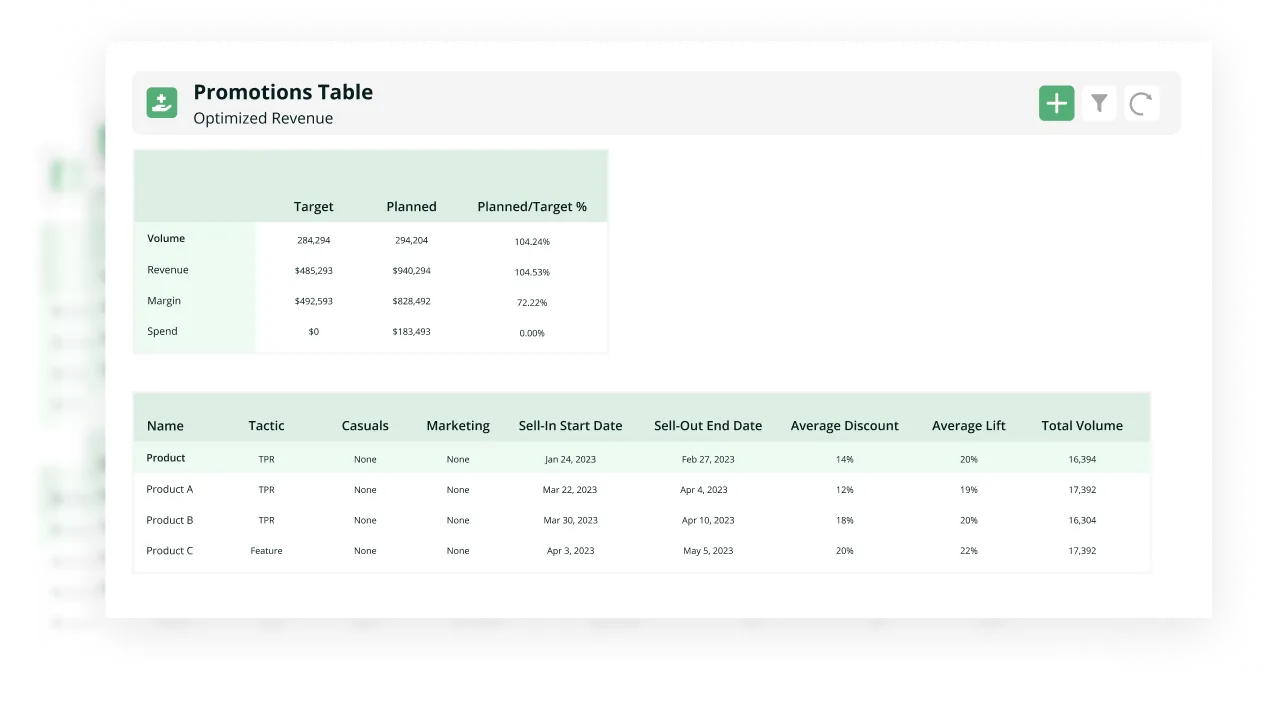 Scenario planning
Scenario planning is a key component of our RGM platform enabling you to wargame promotion and pricing strategies.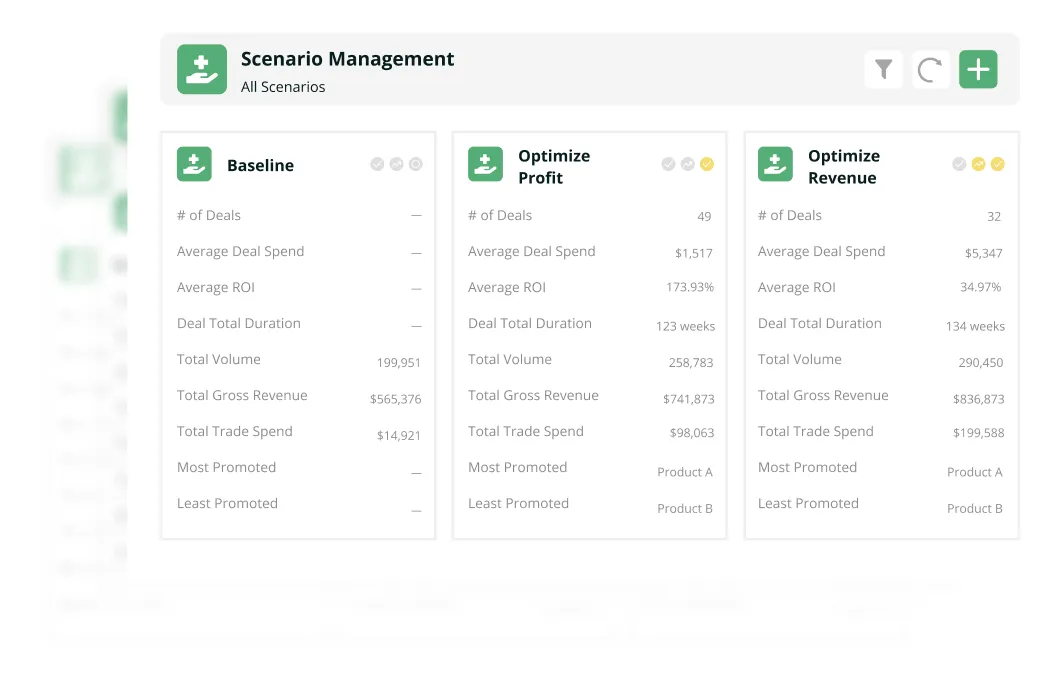 Insights & predictive analysis
Access insights and predictive analytics, that enable you to understand, manage, and optimize your trade spend.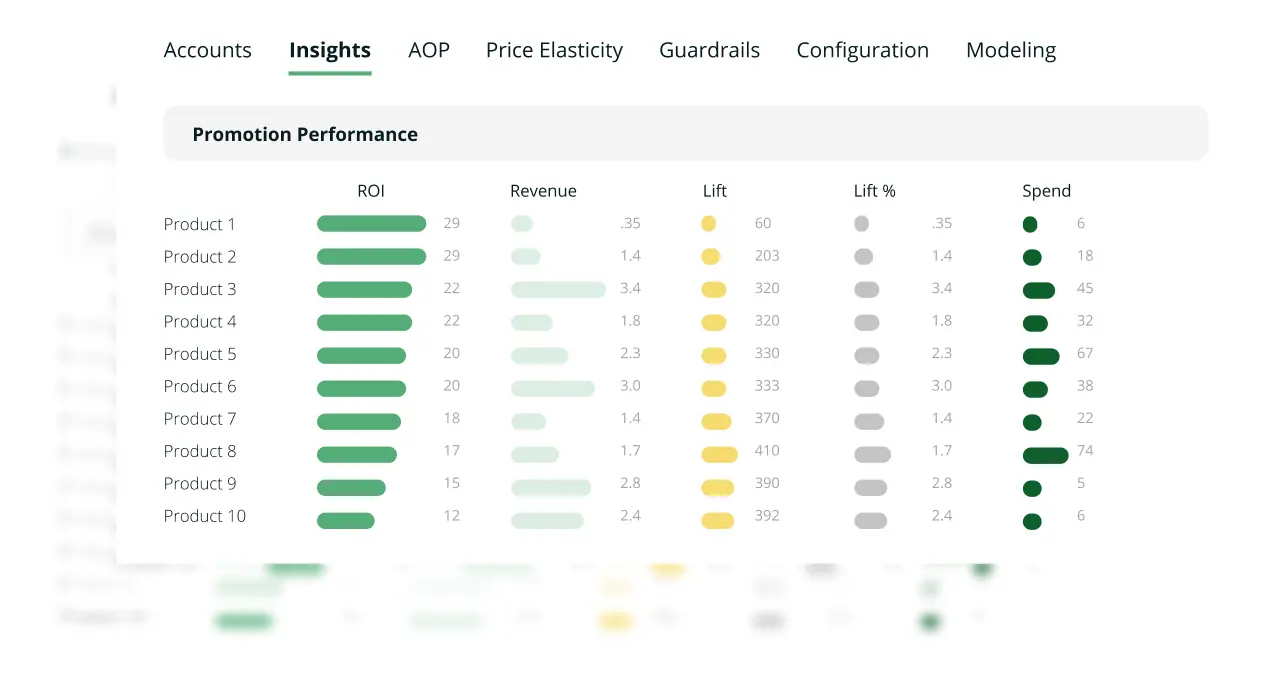 What type of data feeds the scenario planning capability?
It can be hard to imagine the power of AI. Scenario planning utilizes the AI and ML models around baselines and uplift factors, as well as all the master data, hierarchies, financial data on funding, COGs, and pricing, etc. It works by pulling it all together to generate optimal plans. Scenarios can be cloned and modified so you can view the rollup of sales, spend, and profit on a side by side view across scenarios.

How can I trust the system to deliver promotional plans that are reflective of real world conditions?
Real-world actionability was a key driver in how we developed our TPO solution. TPO comes with a robust set of guardrails that can be further customized to meet your requirements. You can enter constraints around pricing, discounts, retailer margin requirements, frequency and timing of events, and much more. Additionally, you can iterate, locking in the promotions that work and having the data science work around those to complete the plans.

What are some examples of scenarios I could generate?
You might want to start by generating a base scenario, cloning and iterating to create scenarios that optimize revenue, one that optimizes profit etc., then quantify the tradeoffs of different strategies. You could generate a high frequency, low depth scenario and compare it to a low frequency, high depth scenario. Keep in mind you will also have retailer metrics so you can work with your customers on scenarios that optimize their sales and profits as well.
How CPG companies use
CPGvision's TPO capabilities
Create side-by-side scenarios
Compare roll-up revenue, sales, and profit easily.
Powerful AI and ML driven tool
Get actionable promotion suggestions to meet your goals due to a powerful and configurable set of robust guardrails.
Get in touch with our team of experts today
Learn more about how you can use artificial intelligence and machine learning to optimize your promotion plan with iterative AI driven scenario planning and constraint based optimization.