Nowadays, finding a marketing approach that delivers immediate and impactful results is critical to survival. To thrive in today's competitive marketplace, companies need to leverage robust strategies and tools that optimize the efficiency and effectiveness of their trade promotions.
When it comes to improving trade promotion, Trade Promotion Management (TPM) provides that answer. TPM encompasses the comprehensive process and employment of software tools for planning, executing, and analyzing trade promotions. However, TPM can also be a complex process.
Before we continue, let's take a step back and look at trade promotion and how exactly TPM fits into the marketing mix.
Trade Promotions vs. Traditional Marketing: What is The Difference?
Trade promotions are a key component of the overall marketing mix for nearly every brand in CPG. Trade promotions serve a dual purpose, both in helping to drive short-term demand and motivating retailers to showcase and sell more of a company's products. Trade promotions are a component of revenue management, involving marketing campaigns and activities targeted at selling more to the final consumer in a push strategy through wholesalers and retailers.
On the other hand, traditional marketing can incorporate a range of strategies, including social media marketing, public relations, and advertising - all designed with a pull strategy by generating consumer demand.
What is TPM?
TPM comprises a range of tasks that revolve around analyzing, budgeting, planning, and aligning a company's trade expenditures. The main aim is to increase sales and profitability while simultaneously improving the productivity of the sales and finance teams.
The components of TPM
TPM involves a systematic process encompassing several stages, or components, each playing a vital role in the overall promotion performance and success.
Understanding and managing these components effectively can optimize trade promotions, leading to increased sales, improved profitability, and enhanced retailer relationships.
Budget and allocation: generate trade budgets and allocate them to specific accounts for creating the promotional plan.
Plan promotions and forecast: Start with a baseline, plan the promotional calendar for each retail customer, and generate a holistic business plan including sales, spend, and profit.
Execution: The execution phase of trade promotion management is where the promotion comes to life. During this phase, you will need to communicate the promotion to retailers, provide them with the necessary materials, and track the results.
Reconciliation: matching the spend to the activity that was generating, validating, and making financial reconciliations in the system to balance out deductions taken for these expenditures.
Evaluation: The evaluation phase of trade promotion management is where you will assess the effectiveness of the promotion and make recommendations for improvement. During this phase, you will need to collect data on the promotion, analyze the data, and make recommendations for future promotions.

You may also be interested in how Good Food Groups boosted its TPM with CPG.
Why is TPM Essential for Your Consumer Packaged Goods (CPG) Business?
CPG companies spend billions of dollars on trade promotions each year, and unfortunately, many report that the ROI on most of this spend is unfavorable. However, TPM can help them improve the effectiveness of their trade promotions by ensuring that promotions are aligned with marketing goals, targeted with the right tactics and discounts, and that they are executed effectively.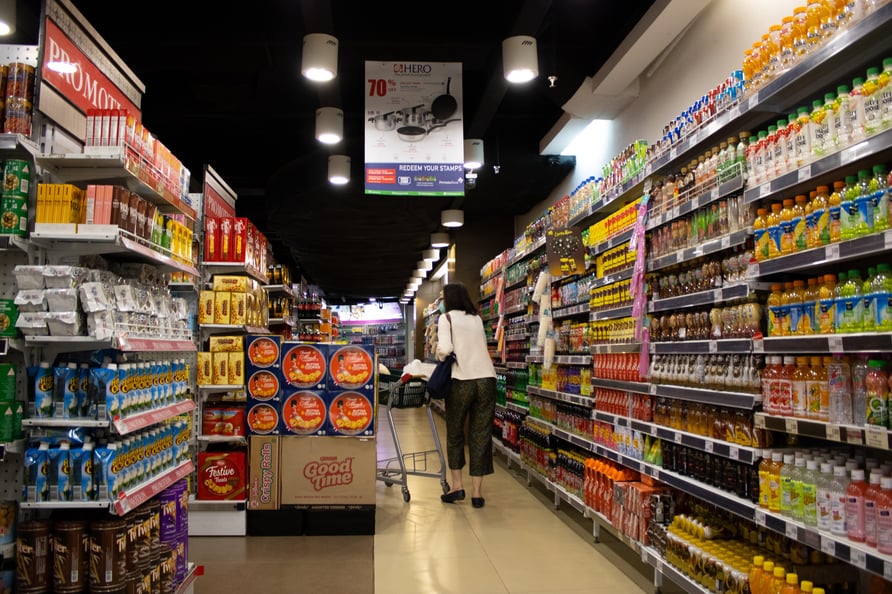 Here are some of the benefits of TPM for Consumer Goods companies:
It can increase sales by encouraging retailers to stock more of a company's products and to promote them more prominently.
It improves profitability by reducing the cost of goods sold and by increasing margins as well as minimizing unauthorized and/or ineffective spending.
It enhances brand awareness by increasing the visibility of a company's products in stores and online.
It also helps build stronger relationships with retailers by providing them with incentives to sell more of a company's products.
TPM is a vital tool for CPG companies that are looking to improve their sales and profitability.
Are your trade promotions delivering the ROI you desire?
...or are you caught in the cycle of planning and executing campaigns without clear insights and strategies?
CPGvision's TPM capabilities can help you:
Automate and optimize trade promotions
Gain real-time performance insights
Resolve deductions faster
Talk to our experts! We can help you transform your promotional strategies.
Finance is key in the trade spend process
The finance department plays a critical role in the trade spend process by ensuring that expenditures are tracked, managed, and optimized for profitability. They are responsible for providing funding, keeping track of trade spending at granular levels, down to individual products and time periods, often on a weekly or monthly basis, accruing the right funds at the right time, and for reporting the financial performance of promotional spending.
Finance is increasingly involved in conducting return on investment (ROI) analyses and assessing the product portfolio mix.
To enable this, many companies employ TPM solutions, which provide detailed financial data at the account, SKU, and week levels. These systems allow for key analyses like post-promotion analysis, and important financial fundamentals like correctly accruing amounts to the general ledger.
However, the finance department's objective of optimizing profitability can sometimes conflict with the sales department's goal of driving volume. This misalignment needs to be addressed, as it can hamper the adoption of efficient trade planning tools that could improve profitability and efficiency.
The finance department is also concerned with ensuring that trade spending dollars are used efficiently, managing the deduction settlement process (including audit trail preservation), and securing visibility into future trade spending liabilities. They play a key role in ensuring that appropriate funds are accrued and the financial viability of promotional plans is analyzed.
What are the Possible Challenges in TPM?
There are a number of challenges that companies face when managing trade promotions. Fortunately, most of these obstacles are manageable with the appropriate TPM software.
These challenges include:
Budget management & allocation: Companies need to allocate their trade promotion budgets carefully in order to maximize their ROI. TPM software can help companies track their trade promotion spending and to identify areas where they can save money.
Target the right retailers and consumers: Trade promotions should be targeted at the right retailers and consumers. This will ensure that the promotions are seen by the people who are most likely to be interested in them.
Data management: Trade promotions generate a lot of data, and it can be difficult to keep track of all of this data. TPM software can help companies to collect, store, and analyze trade promotion data. This data analysis can be used to improve the effectiveness of future trade promotions.
Accurate forecasting and integrated business planning: Companies need to be able to forecast the impact of trade promotions on sales and profits. TPM software can help companies to develop accurate forecasts and to plan their trade promotions accordingly.
Execute trade promotions effectively: Trade promotions should be executed effectively. This means having a clear plan in place and making sure that all of the necessary resources are available.
Changing market conditions: Market conditions can change quickly, and companies need to be able to adapt their trade promotions accordingly. TPM software can help companies to monitor market conditions and to adjust their trade promotions as needed.
Technology and digital transformation challenges: The trade promotion landscape is constantly evolving, and companies need to be able to adapt to new technologies and digital transformation challenges. TPM software can help companies to stay ahead of the curve and to make the most of new technologies.
Do I Need a TPM Software?
Whether or not you need TPM software depends on a number of factors, including the complexity and scale of your promotional activities, and the challenges you face in managing them.
TPM software can help you to:
Automate trade promotion tasks: TPM software can automate tasks such as data entry, forecasting, and reporting. This can free up time for employees to focus on other tasks, such as developing new trade promotion strategies.
Improve communication: TPM software can help companies improve communication between different departments, such as marketing, sales, and finance. This can help ensure that everyone is on the same page and that trade promotions are executed effectively.
Make better trade promotion decisions: It can also help companies make better decisions about their trade promotions by providing them with insights into the effectiveness of different strategies. This can help companies improve their ROI from trade promotions.
Here are a few situations where implementing TPM software could be beneficial:
If your promotional activities are numerous, complex, and span multiple channels or regions, manual management can become error-prone and inefficient. TPM software can automate many of these tasks, reducing errors and freeing up resources.
If you're struggling with scattered data and lack of visibility, a TPM solution can help. TPM software can handle vast amounts of data, providing centralized storage and easy access.
If you're having trouble understanding how your promotions are performing and why, TPM software can provide advanced analytics capabilities, giving you deep insights and enabling data-driven decision-making.
If you struggle with forecasting. TPM software often includes predictive modeling tools that can help you forecast the likely outcomes of different promotional scenarios, enabling you to optimize your strategies. When paired with the prediction of non-promoted sales, the system should help you generate a holistic forecast, not just a promotional one.
If your organization faces challenges in sharing promotional plans and data with retail partners, TPM software can streamline this communication, improving collaboration and outcomes.
Remember, the decision to invest in TPM software should be based on a thorough assessment of your business needs and the potential ROI
Introducing CPGvision: A Powerful All-in-One Trade Management Software
CPGvision is the best-in-class fully connected and integrated TPM and Revenue Growth Management (RGM) solution suite for Consumer-Packaged Goods, built on the Salesforce platform. With the most advanced functionality in the industry, CPGvision equips you with real-life problem-solving applications for TPM, Trade Promotion Optimization (TPO), and RGM.
What can CPGvision do for your business?
With a Trade Promotion Management software like CPGvision you'll be able to:
Generate accurate sales forecasts- Say goodbye to manual forecasting processes and errors. CPGvision applies modern machine learning techniques to generate and leverage the right historical data and make accurate promotion predictions.
Gain real-time visibility into your performance- Analyze actual results as soon as the data becomes available, and make adjustments to the plan accordingly.
Resolve deductions faster- Manage your reconciliation process in a state-of-the-art UI to clear deductions faster, and reduce that AR aging!
Cut planning time- Combine your top-down and bottom-up plans, and analyze and close gaps for one source of truth on the forecast.
Generate promotional predictions all in one place- Increase your ROI on trade spend with artificial intelligence-driven optimization and scenario planning and see the impact on your volume, revenue, and profit immediately.
What features does CPGvision provide?
There are TPM capabilities inherent in the CPGvision platform that are life-changing for users who were used to spreadsheets.

Some of these "easy buttons" are:

1. Advanced Product Search - The search function takes advantage of the powerful capabilities that Salesforce has to offer:

Global search with a search bar at the top of every screen, regardless of where you are in the application, you can search the entire application and see all the places within the solution with matching results.
Users can search and associate different records with one another using a lookup field
Users can also take advantage of the "where is this used" function - showing all places across the application where a certain field is utilized.
2. Mass Cloning Capability- Get powerful cloning capabilities to minimize the amount of manual input. Cloning is a function that basically copies the parameters of a promotion or plan and applies the appropriate dynamics to the copied version. Users can:

Clone a promotion to another period on the account plan.
Clone individual or multiple promotion plans(or an entire plan) from one year to the next.
Clone multiple promotions at once.
Clone single or multiple promotions(or an entire plan) to another account.
The clone button is the ultimate EZ button!

3. Mass Approvals- Mass Approvals provide the ability to check multiple promotions or settlements and approve them at once. Automated workflows and auto-settlements can provide further levels of efficiency.

4. Predictive Planning- You will always have visibility to key metrics of a promotion.

Plan with a highly configurable promotion calculator
Customize the key performance indicators and can incorporate work-flows around them
Change the parameters of an event and automatically see the projected impact on your KPIs
5. Chatter function - provides audit trails and documentation- Employees can interact, share data, and store fields.

Exceptionally helpful through the promotion reconciliation process
Contracts can be attached to promotions as well as proof of performance
Deduction personnel can ask questions and all correspondence remains linked to the promotions and reconciliations
Provides a reliable audit trail that remains intact through personnel changes
At CPGvision we utilize a "train the trainer" approach as well as live end-user training. Having internal experts participate in training efforts ensures a higher level of coverage and transference of internal SOPs (standard operating procedures that are specific to your business).
Two useful monitoring tools we use are:
Hypercare - office hours are established while users are in their first planning cycle. During Hypercare, questions are answered immediately and the team has an opportunity to explain and revise their SOPs.


Usage Reporting - monitoring logins, number of promotions created, etc. enables an understanding of who may need extra assistance during the planning cycle. It also ensures that everyone is getting their plans done!



Post-Planning Recap

- once the first round of planning is complete, we get the team back together. What did they learn? Were they able to do anything differently based on the information they had to plan with? What would improve the experience for them?
Let's Boost Your Trade Promotion ROI Together!
As mentioned before, TPM is a complex process, but it can be a valuable tool for CPG companies that are looking to maximize sales and profitability.
By adopting CPGvision's best-in-class TPM software suite, you can harness advanced functionality, real-life problem-solving, and a range of applications that will help drive your promotional success, and keep your customers coming back for more.
At CPGvision, we take pride in our commitment to your goals. Our dedicated team consists of CPG industry professionals who are fully equipped to support you with your TPM solution.
To learn more about how CPGvision can help you achieve successful TPM, get in touch with us today.