At the heart of business management and the strategic planning process lies your annual operating plan (AOP) - a crucial blueprint that guides you through the intricacies of achieving your financial goals year after year.
Determining your organization's goals, priorities, and resource allocation can be a daunting task. Without the proper roadmap and planning, you may struggle to align your efforts and make the right decisions. A strong AOP process is key to successful navigation.
Let's dive into the key components that constitute an AOP and explore the process of setting strategic objectives and creating action plans that drive your organizational growth.
What is an annual operating plan (AOP) in finance?
AOP is a comprehensive plan that links an organization's financial objectives to the strategies and specific initiatives that will be employed to achieve those objectives. It serves as a blueprint for managing the financial resources and operations of a company or department within a larger organization.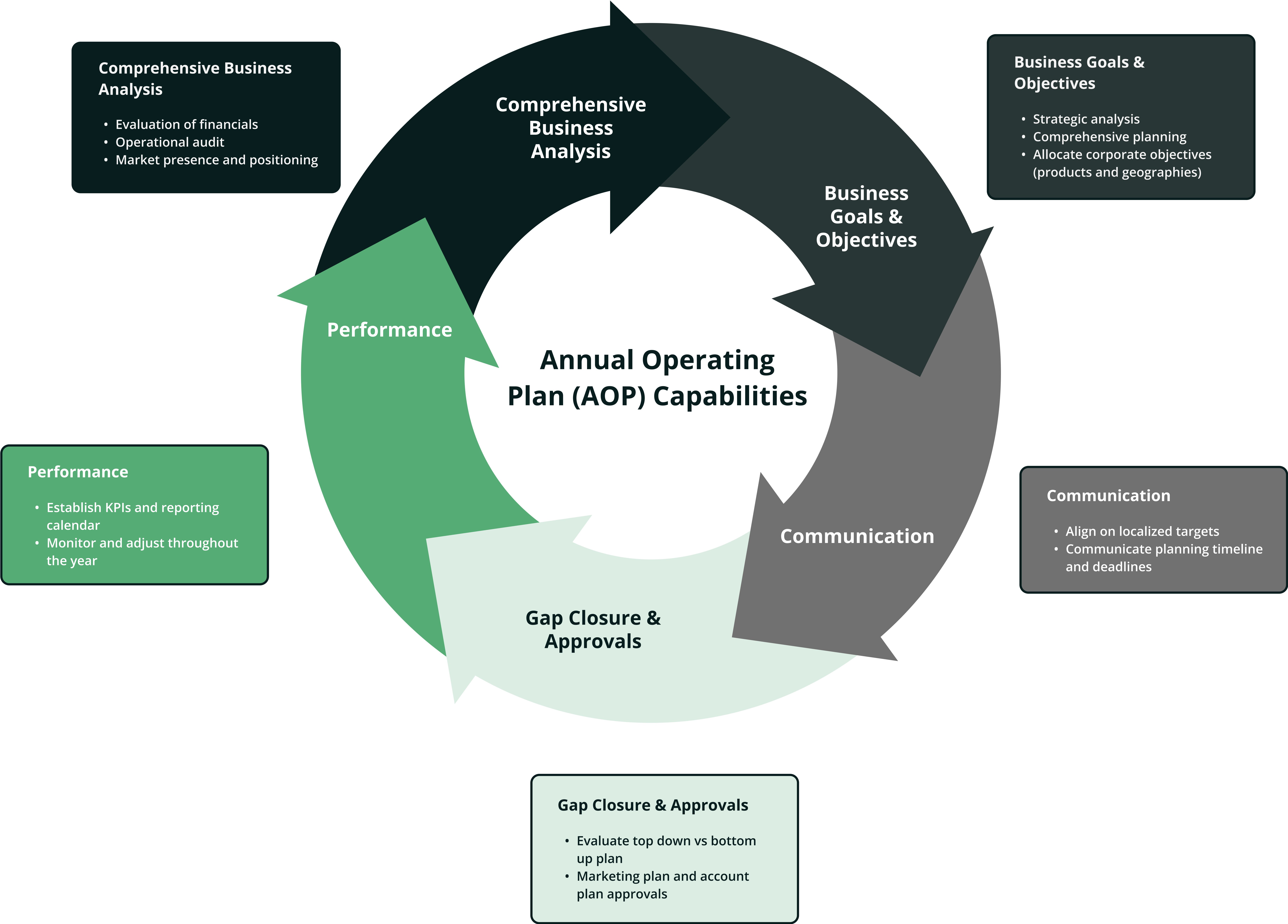 How is AOP different from a budget?
The terms AOP and budget will occasionally get used interchangeably; however, these two terms are quite different. A budget is actually a key component of AOP Planning. The budget itself is a specific detail of how funds will be spent, focusing on ensuring that objectives are met in a financially responsible and efficient manner.
How is trade spend management linked to AOP?
Since trade promotions are typically the largest budget item (after cost of goods), trade has a particularly outsized role in the AOP planning process. Finance, revenue growth management (RGM) and sales teams all collaborate during AOP to generate the strategy and guidelines for trade spending.
Consumer goods (CG) organizations, in particular, are always striving to get the most bang for their buck out of their trade spend, and AOP is a point in time when a particular focus is placed on post-event analytics and trade promotion optimization (TPO).
Who within a CPG company is involved in AOP?
The AOP process is typically led by finance, starting with the CFO who works with the executive team to create the topline targets for sales, revenue, and spending. On the trade side, finance, RGM, and sales collaborate as a cross-functional team to ensure that the AOP is aligned with the company's vision, mission, values, and goals.
That's not all; the AOP should also balance the supply and demand of the products, meet customer expectations and satisfaction, and achieve revenue and profit growth for the year.
What is the role of finance in the AOP process?
Finance plays a vital role in the AOP process by offering valuable financial guidance, conducting thorough analysis, and providing comprehensive reporting. It assists in establishing revenue and profit targets, allocating resources and budgets, assessing the financial viability of plans, and continuously monitoring financial performance and changes throughout the 12-month period.
What is the role of RGM in the AOP process?
RGM is a strategic function aimed at maximizing a company's revenue and profitability through the utilization of data-driven insights and analytics. By leveraging these tools, RGM empowers businesses to make informed decisions regarding pricing, promotions, assortment, and trade investments.
The primary objective of RGM is to optimize sales and marketing strategies, encompassing various aspects such as target markets, customer segments, channels, products, prices, promotions, and distribution strategies. RGM also plays a crucial role in evaluating the return on investment (ROI) for each plan, identifying best practices, and deriving valuable lessons for future optimization.
What is the role of field sales in the AOP process?
Sales plays a very important role in implementing the sales and marketing plan for the AOP process. They receive their portion of the company's targets for sales and spend (Top Down) and create promotional strategies for their accounts (Bottom Up). They collaborate with their counterparts in finance and RGM to close any gaps between the top-down and bottom-up plans. They must also foster robust relationships with customers and retailers.
The sales team facilitates effective communication and negotiation of the plan's terms and conditions, ensuring its compliance and successful execution. They also gather valuable feedback and insights on customer requirements and how to collaborate best to meet both company and customer goals. And sales actively adapts the plan in response to evolving market dynamics and customer feedback, ensuring its continued effectiveness.
What are the key steps in the AOP process?
The AOP process for CG companies typically involves several key steps. While the specific details may vary depending on the company's size, structure, and industry, there are some important actions:
Review the current situation and performance of the company, including its strengths, weaknesses, opportunities, and threats (SWOT analysis).
Define the strategic objectives and initiatives for the year, aligned with the company's vision, mission, and values.
Develop the sales and marketing plan, including the target markets, segments, customers, channels, products, prices, promotions, and distribution strategies.
Develop the operations plan, including the production, inventory, procurement, logistics, quality, and service strategies.
Develop the financial plan, including the income statement, balance sheet, cash flow statement, capital expenditure plan, and key performance indicators (KPIs).
Spread the corporate targets for sales and spend through the product and geography hierarchy so that each component of marketing and sales understands their objectives.
Align and communicate the AOP across the organization and get approval from the senior management and board of directors.
Execute and monitor the AOP throughout the year and make adjustments as needed based on changing market conditions and customer feedback.
How can AOP Planning be improved with TPx software?
One difficult aspect of the AOP process is keeping everyone aligned on what the specific objectives are. Sales, revenue, profit, and spend are numbers that are not particularly static throughout the process.
Having all of your members collaborate in a single system that tracks each person's share of the numbers throughout this fluid process is a huge success factor. At CPGvision, our trade promotion execution (TPx) system features AOP functionality in one single system, enabling key players to remain focused on enhancing the plan instead of finding the numbers.
Get in touch with us today and find out how our CPGvision platform can streamline your AOP journey and help you achieve your objectives.